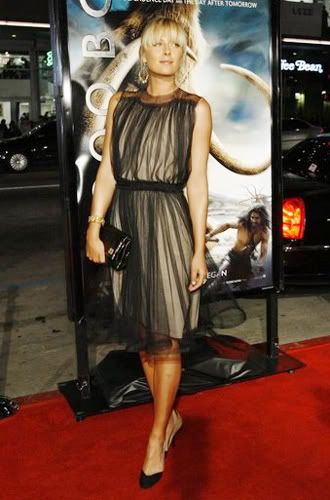 Maria Sharapova
The Russian siren broke into the world of tennis through her superlative display at the junior levels and soon became a force to reckon with on the WTA circuit as well. Sharapova's ability to juxtapose power-play with deft touch saw her rise like a meteor. The crowning glory of her career came when she won the Wimbledon at the age of 17 in the year 2004, her first Grand Slam. She reached the pinnacle of success after becoming the World No 1 player in WTA rankings. She also won the 2006 US Open. Apart from being a talented tennis player, what catapulted 'Masha', to instant stardom was her drop-dead gorgeous looks and flamboyant personality. She has forever been a crowd-puller irrespective of her form on the court. Maria Sharapova enjoys great fan following as she was the most searched-for athlete on Yahoo in the years 2005 and 2008. Maria Sharapova has also had a successful modelling career. She has featured in the 'Sports Illustrated Swimsuit Issue'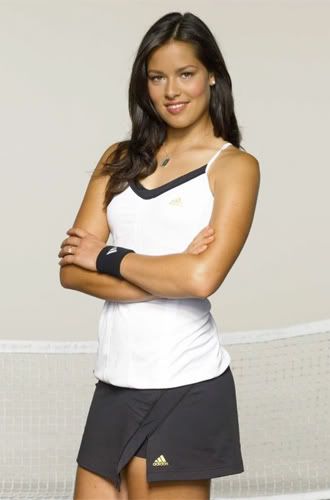 Ana Ivanovic
Ana Ivanovic is the latest heartthrob on the tennis courts worldwide. Notwithstanding her loss of form since taking over as the World No. 1 in June 2008 after her French Open win, Ana continues to roll eyeballs both on and off the court. Ivanovic of late has also been in the news for her romantic liaison with Australian golfer Adam Scott. The Serbian beauty took the giant leap from the junior to senior level in the year 2004 and won her first WTA event in 2005. She continued to make steady progress and reached the final of the French Open after beating the top players in the world before losing to Justin Henin. She then made it to the semi-finals of Wimbledon and the US Open. She failed to win her first Grand Slam title again as she lost in the finals of the 2008 Australian Open. But the wait had to end and it did at the Roland Garros as Ivanovic beat Dinara Safina to win the French Open. Life on the court since then has been tough for the sexy Serbian as she struggled to win matches and regain her golden touch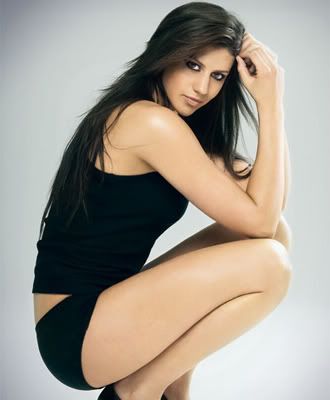 Stephanie Rice
The Australian swimmer is a scorcher in the pool as well as off it. Stephanie Rice has been one of the most talked about swimmers in the recent times. She won three gold medals in the 2008 Beijing Olympics and currently holds the world record in the 400 metres individual medley. She was romantically linked with fellow Australian swimmer and 50m freestyle world-record-holder Eamon Sullivan. The two split before the Beijing Olympics but have maintained that they are good friends. Rice has been a constant feature of myriad polls and lists of glamorous and sexy sportswomen.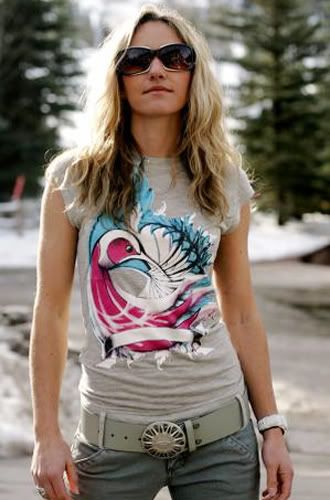 Gretchen Bleiler

Gretchen Bleiler is a professional halfpipe snowboarder. She is said to be one of the most accomplished female snowboarders in the world. She has been riding ever since, became professional in 1996 and is currently recognized as a role model and pioneer in the sport. In the pre Olympic season she won four of the five US Olympic halfpipe qualifiers and is also a two time X Games gold medalist. Bleiler, who missed qualifying for the 2002 Winter Olympics due to a tiebreaker, won a silver medal in the women's halfpipe at the 2006 Winter Olympics in Turin, Italy. Bleiler has been profiled by various magazines and has appeared as a cover-girl for Maxim. Her hot quotient is recognised widely in the US. She has appeared in commercials promoting the 2006 winter Olympics.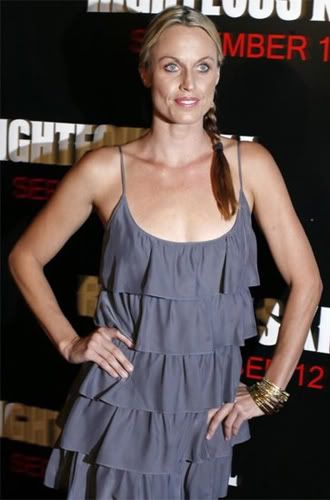 Amanda Beard

Amanda Beard is the ageless American bombshell. The US swimmer has to her kitty 7 Olympic medals which includes the 200 metres breaststroke gold in the 2004 Athens Olympics. Beard was the highest ranked swimmer in 200 metres breaststroke in the world in 2003 and has been a sensation in the US Nationals. Alongside her swimming career, Beard has been a hot property on the modelling circuit as well. She posed nude for the July 2007 issue of Playboy. She has been featured in the 'Sports Illustrated Swimsuit Issue' as well as the popular men's magazine FHM. In 2008 she again posed nude, this time with the US flag for PETA's anti-fur campaign.




Yelena Isinbayeva

Yelena Isinbayeva is to pole vault what Roger Federer has been to tennis and Michael Schumacher was to Formula 1. She is the undisputed queen of women's pole vault. She has won the gold medal in Olympics in 2004 and 2008. She is also a multiple winner at the world indoor and outdoor championships. Isinbayeva broke the historic 5.00 metre barrier in pole vault in 2005 and presently holds the world record at 5.06 metres in outdoor events. Isinbayeva along with her accomplishments as an athlete is also a favourite with the shutter bugs. She has been profiled by all major sports magazines. Isinbayeva has been virtually unbeatable since 2004 and that has won her IAAF's Female Athlete of the year award in 2004, 2005 and 2008. She has also been awarded the World Sportswoman of the Year by Laureus in 2007 and 2009.




Michelle Wie

A golf prodigy, Michelle Wie brings the same kind of excitement to the LPGA that Tiger Woods brings to the male brand of golf. She is now a professional American golfer, who has gained attention for her many attempts to make a cut at a PGA Tour event. In 2006, she was named in a Time magazine article, "one of 100 people who shape our world." She has been accepted to Stanford University and has said she will be enrolling in fall 2007. By the end of 2006, her first full year as a professional, she had missed the cut in 11 out of 12 tries against men, and remained winless in all 33 professional women's tournaments she had entered, the last 9 as a professional.