Tennis' most romantic kisses

On the court, tennis players give it their all to put one past their opponents. But, after winning a match or a title, they also share some tender court-side moments with their partners.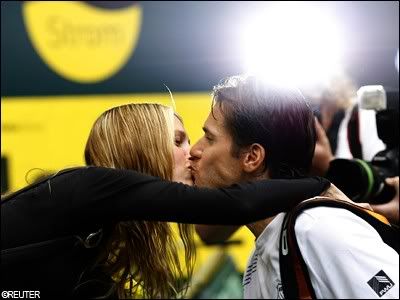 Tommy Haas and Sara Foster
Tommy Haas of Germany kisses his girlfriend Sara Foster after winning the final against Novak Djokovic of Serbia during the Halle Open tennis tournament in the western German town of Halle on June 14, 2009. Haas won the final 6-3, 7-6, 6-1.
Andre Agassi and Steffi Graf
Former tennis champion Andre Agassi kisses his wife, former tennis champion, German born Steffi Graf, on Center Court as they prepare to play former British tennis player Tim Henman and Kim Clijsters from Belgian, in a mixed doubles tennis match during a test event on Wimbledon's Centre Court, in London on May 17, 2009.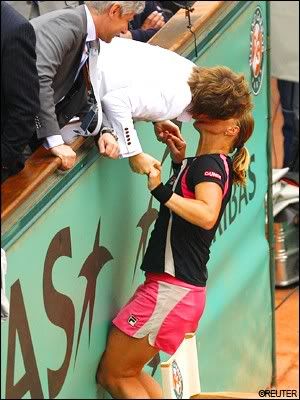 Svetlana Kuznetsova
Svetlana Kuznetsova of Russia kisses someone in the crowd as she celebrates winning her women's final against compatriot Dinara Safina at the French Open at Roland Garros in Paris on June 6, 2009.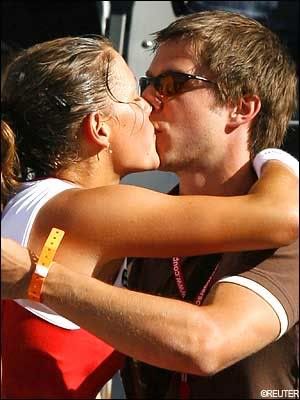 Canada's Stephanie Dubois kisses her boyfriend after her win over Italy's Tathiana Garbin at the Rogers Cup women's tennis tournament in Montreal on August 15, 2006.
Kim Clijsters
Kim Clijsters, of Belgium, kisses her husband, Brian Lynch in the stands after defeating Caroline Wozniacki, of Denmark, during the women's championship match at the US Open in New York on September 13, 2009.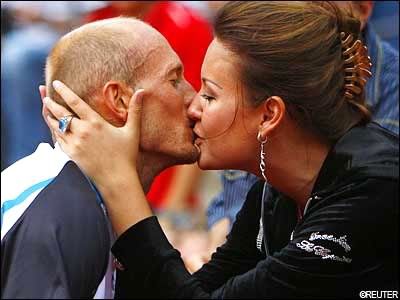 Nikolay Davydenko
Nikolay Davydenko of Russia kisses his wife Regina after defeating Paul-Henri Mathieu of France in the final match of the International German Open tennis tournament at the Rothenbaum stadium in Hamburg on July 26, 2009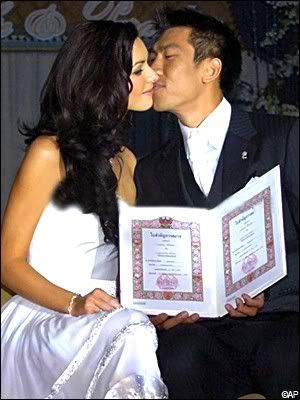 Paradorn Srchaphan
Thailand's tennis star Paradorn Srchaphan kisses his bride, Miss Universe 2005 Natalie Glebova at their wedding at a hotel in Bangkok, Thailand, on November 29, 2007.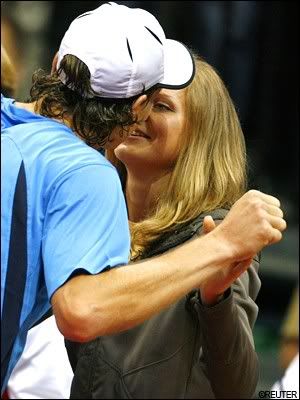 Berdych and Safarova
Czech Republic's Tomas Berdych is kissed by his girlfriend, Czech tennis player Lucie Safarova, after Berdych defeated Switzerland's Stanislas Wawrinka in their Davis Cup play-off tennis match in Prague on September 21, 2007.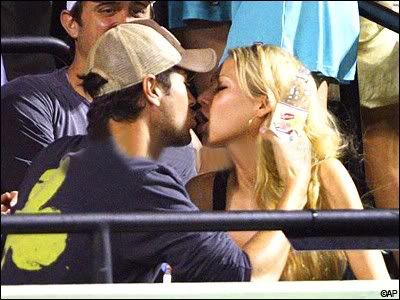 Kournikova and Iglesias
Enrique Iglesias (left) and Anna Kournikova kiss after being shown on the stadium's "kiss cam" during a match between Serena Williams and her sister Venus Williams at the Sony Ericsson Open tennis tournament in Key Biscayne, Florida, on April 2, 2009.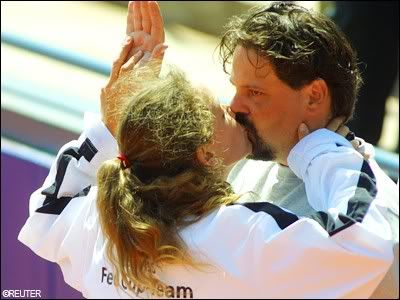 Patty Schnyder
Swiss Fed cup player Patty Schnyder kisses her boyfriend Rainer Hofmann of Germany after beating Slovakia's Daniela Hantuchova in two sets during the Group A Fed cup match between Slovakia and Switzerland in Bratislava on April 28,2002